This month's HCI spotlight features: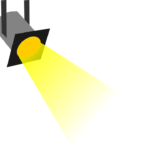 ---
Online HCI Student Spotlight: Edwin Martinez Velazquez
First, tell us a little bit about your academic and professional background.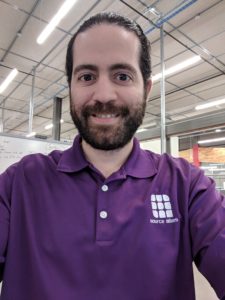 I got a bachelor's degree in Computer Engineering with a minor in Computer Science from Iowa State University, focusing a lot in video game development. Currently I am working as a Software Engineer Consultant at Source Allies in the Des Moines, Iowa area. I've started my career as a Software Engineer in the video game industry and moved on to consulting to experience other industries and expand my skill set.

What interests you about HCI? Why are you pursuing this degree?
I got interested in HCI because I could integrate my skills of software engineering with virtual reality and expand my skills in the VR domain. I'm pursuing a Master of Science in HCI to become an expert in VR software engineering.

What is your research focus?
My research focus is in Virtual Reality is to learn if we can manipulate the perception of time in Virtual Reality. An example of such is to see if we can create a VR environment where it can be perceived to have lasted an hour where in reality it lasted half an hour and possibly vice versa.

What has been your favorite HCI course thus far?
My favorite HCI class has been HCI 580 – Virtual Worlds, where you have to build an application in Augmented or Virtual Reality. I made a VR visual story novel for Google Daydream based on a short story that I wrote for an undergrad class.

What are your goals after graduation?
After graduating I will seek a role as a AR or VR software developer and use the skills I've learned as a consultant to take a leading role in development.

What is your favorite HCI related book or other resource?
I don't have a specific HCI related book, however as a Software Engineer, I am a big fan of Uncle Bob's (Robert C. Martin) book, Clean Code. This book has helped me become a more advanced and proficient developer in the industry. I actively reference this book with my clients to help improve development.

---
On-Campus HCI Student Spotlight: Alex Lim
First, tell us a little bit about your academic and professional background.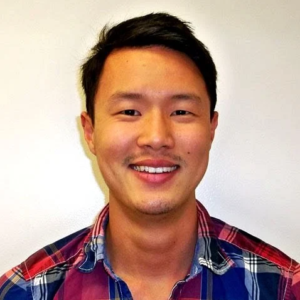 South Korean born and Los Angeles raised. I earned my Bachelors in Psychology at California State University, Dominguez Hills and my Masters in Experimental Psychology at California State University, Northridge. I am currently pursuing my Ph.D. co-majoring in Psychology (cognitive area) and Human Computer Interaction here at Iowa State University. Before I came to ISU, I was teaching psychology courses as an adjunct back in L.A. I don't have much professional experience in industry, but during my time here at ISU, I completed an internship program at Samsung Research America as a User Experience Researcher. I'm currently contracting as a UX Researcher at Blue Cross Blue Shield of Illinois. I'm also involved with the HCI Student Group and a Chapter Organizer and Founder of the Usabilathon (usability hackathon style event) here at ISU.

What interests you about HCI? Why are you pursuing this degree?
What attracts me the most to HCI is the interdisciplinary approach to solving HCI related problems to improve interactions between humans and technology. I come from a research background in psychology and I have the privilege to work alongside very talented students and faculty who come from other areas such as mechanical or industrial engineering, computer science, linguistics, human factors, etc. This provides a robust approach to solving HCI related problems. I'm pursuing an HCI degree because I'm interested in leveraging what we know about cognitive processes (e.g., limits of working memory) and apply that to improve the usability of various technologies.

What is your research focus?
A line of research that I am currently pursuing with Dr. Jonathan Kelly and Lucia Cherep (grad student) in the Navigation Lab is understanding the effects of teleporting interfaces used in virtual reality (VR) on spatial updating. Spatial updating is the process of keeping track of self-location during movement through space ("Where am I?"). Teleporting techniques (pointing a virtual laser pointer to the intended location before being instantly transported) in VR have become a popular interface used for locomotion in VEs because we eventually run out of physical space to walk around when navigating large VEs. This limits the walking interface in VEs. What we are learning so far indicates that removing body-based rotational and translational cues negatively affects spatial updating (the process of keeping track of self-location during travel), and that discordant teleporting uses teleporting for rotation and translation (thereby removing all body-based cues) impairs spatial updating more than partially concordant (allows for body rotation but uses teleporting for translation through the VE) teleporting. With that said, we are trying to understand whether the negative effects of removing body-based cues can be mitigated when environmental cues (e.g., landmarks) can be used instead of or in addition to spatial updating.

What has been your favorite HCI course thus far?
One of my favorite courses so far has been the Cognition and HCI course because of its application in industry. In that course we learned about basic cognitive processes and how its limits can be used to improve the usability of technology across various domains (e.g., cognitive offloading, autonomous vehicles, data visualization, user interfaces, etc.).

What are your goals after graduation?
My goals after graduation is to work in industry as a user researcher. I really enjoy the fast-paced research environment that industry offers.

What is your favorite HCI related book or other resource?
Any good psychology research methods/design book, Design of Everything Things (by Don Norman), Think Fast and Slow (Daniel Kahneman).

---
Faculty Spotlight: Stephen Gilbert
Tell us about your educational/professional background?
My undergraduate degree was in Civil Engineering & Operations Research (I focused more on the OR), and I had a minor in human-computer interaction. At the time, HCI was a hand-crafted minor that I assembled myself with support of some faculty who understood it.

I became interested in how the engineers around me conceptualized problems and solved them — how did some engineers develop better mental representations for problem solving than others? So for graduate school, I went to MIT to get a Ph.D. in Brain and Cognitive Sciences. MIT's version of cognitive science felt less like psychology and more like, "What software is your brain running?" We still have so much to learn about that.

While I was in grad school, the web arrived (~1995), and after a postdoc working partially at Xerox PARC, I joined a startup company in Chicago working for Don Norman (UNext.com). We were trying to build online courses, much like today's MOOCs, but with much more primitive software. There was no YouTube yet, for example, so sharing videos of faculty talking was pretty painful.

During the startup work my spouse and I moved to Ames in 2003 for her professor position here, and after a layoff at UNext in which they eliminated telecommuters, I started my own company in the ISU Research Park, Clearsighted, Inc. I was awarded several SBIR grants to support it, but after a while, working with Jim Oliver, Eliot Winer, and VRAC was more appealing, so I began working with them in 2007. I started as a lecturer in the Psychology department, but then began the tenure track in 2012 with IMSE, focused on human factors. My family really enjoys Ames, and Iowa State has been a great part of our lives.

What are your research interests?
Human-agent teaming, especially in the context of Intelligent Team Tutoring Systems (ITTSs), software that can monitor team dynamics and help teams improve their performance. I've collaborated heavily with Eliot Winer and Michael Dorneich on these efforts.

Using machine learning to evaluate writing, especially academic writing to help students improve their writing, as well as evaluating writing to detect whether an experimental protocol is well designed. I've collaborating closely with Annette O'Connor and Elena Cotos on these efforts; Annette knows how to design a good protocol, and Elena knows how to analyze writing. I have been working on tools to gather data to train the machine learning systems.

I'm also interested in augmented reality interfaces and how they can help people do work more efficiently. I've worked some with both Boeing and John Deere on that idea, working with Eliot Winer and Rafael Radkowski.

What makes you passionate about academic research?
It's exciting to be part of discovering cutting-edge methods and principles of how humans and technology can work together.
Where do you see the HCI program five years from now?
HCI is still a hot topic in the workforce, both in the world of UX as well as broader HCI topics such as autonomous vehicle interfaces, trust in AI agents, and personal data privacy. Thus, I think we'll continue to have a strong demand for HCI topics from students. Ongoing changes at Iowa State in the way finances are managed may yield more opportunities to create a larger variety of HCI courses, which would be great. I would like to build more systematic industry partnerships so that we can ground our teaching in research principles but keep it up to date with the needs of the real world. Finally, I'd like to nurture more of a community among our students, off- and on-campus. We have amazingly talented students, and they could benefit greatly from knowing each other.
What advice would you like to give to new graduate students in the HCI program?
Strike up conversations with other students; our HCI community can be one of the most valuable assets of the HCI graduate experience. Also, feel free to give your professors constructive feedback about ways to improve their courses or the program.

Where can we learn more about your research? (i.e. website address)
I have a website, but it's difficult to keep it up to date. The best solution to that is to look at my Google Scholar page, or other similar pages. They can be found at http://public.vrac.iastate.edu/~gilbert/publications.html

---
Qualitative Research Epistemology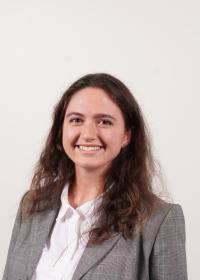 by Kaitlyn Ouverson

According to Creswell and Poth (2017), among many other qualitative research theorists, any qualitative research is undertaken from a specific philosophical worldview. Some people who come to qualitative research after a sum of quantitative training and experience approach the process in a way that is most comfortable to them — taking steps to reduce subjectivity and bias on the side of the experimenter, reporting results in a "scientific way," and using rigorous data analyses to make meaning from the data. Others use qualitative research to call for action on behalf of and in collaboration with marginalized and underrepresented persons. Still others use a variety of approaches and worldviews depending on the question needing answered. Many other research philosophies can be identified depending on the ontologies, epistemologies, axiologies, and methodologies employed by the researcher.
In User Experience Research (UXR) there are a multitude of identifiable worldviews and research philosophies. Being trained in quantitative research for the entirety of my undergraduate career, I did not find these frameworks particularly salient — not until I learned about qualitative research as a graduate student. The frameworks surrounding research are almost as interesting and important as the results, and they shed immense light on the backgrounds of individual researchers I have befriended, which (as a psych nerd) is fascinating to me.
For the most part, the researchers I have met have come off as Post-positivists. Most of us come from a quantitative background, or we are pressured by our advisers to produce objective work that adds value to the scientific field of Human-Computer Interaction (or Engineering, or Psychology, or any of the social sciences, really). Post-positivists understand that objectivity is not achievable by a single person, as each of us holds bias from previous experience and theory exposure. Additionally, Post-positivism focuses on the idea that there is a reality independent of each of us, and that with enough confirming data, we can get an accurate picture of that reality. If your adviser has ever asked for data to triangulate a claim, they may be a Post-positivist.
While I see the value in Post-positivist research, and I hope to approach qualitative research with the amount of rigor and objectivity valued in such research, I align closer to the Pragmatic research philosophy. I don't think any one reality or method is the "truth," and the way to approach truth depends on a variety of variables, whatever is most useful to answering the research question. That is the focus of Pragmatism: the "truth" is identified by adapting the tool to the question – a screw doesn't call for a hammer and, likewise, a question of "Why?" won't be answered via a Likert scale. As I move forward, Pragmatism will mean the application of unique methods to problems, methods which may be received with crossed arms and raised brows. But, if the methods fit the problem – no matter how "unorthodox" – they are worth using.
One interesting — and I mean interesting in many connotations — epistemology that I have heard of and have immense respect for falls under what I believe to be the Transformative framework. Typically, this framework focuses on the presentation of the diversity of truths through collaboration between the researcher and the subject or subjects. Also typical is that the researcher uses special care to avoid alienating or further marginalizing the subjects of study, focusing on the individual rather than the aggregate, and avoiding the use of labels altogether. In UXR, this makes for an interesting philosophy. Naturally, we are studying users who hold opinions and needs that have been traditionally underrepresented in the development and design process. For example, by collaborating with users in a card sorting task, the researcher can create a mutual understanding, thereby employing a Transformative framework in her research.
In sum, UXR is a broad and varied field, despite the narrowness of its purpose. People from all backgrounds and philosophies approach this field, and while I have only experienced a few of these, I am sure that in my continuation in the UX universe, I will find many examples of all research philosophies.
Creswell, J.W., & Poth, C.N. (2017). Qualitative inquiry and research design: Choosing among five approaches (4th ed.). Thousand Oaks, CA: SAGE Publications.

---
My Experience in the HCI Program: A Retrospective
By Mahmood Ramezani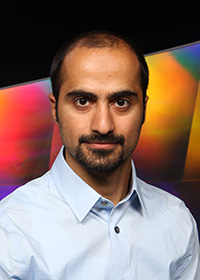 About 18 years ago, when I was a bachelor student in mining engineering who worked at the computer lab, I found my passion for development. Thus, I changed my major to IT while I was simultaneously running my software company. As a developer, I found it really hard to discover user needs, considering that sometimes they themselves don't know what they are looking for!
Time passed and I ended up in Iowa, spending 20 years out of my 34 years of life. It was not easy to find a major which was appealing to me. I only knew HCI could help me learn how to understand the user needs, the missing part of the knowledge that I was seeking for my career. My first impression of HCI was that it was fairly new and not vastly known by people in industry. I finally made a tough choice of spending another 2 years of my life on a graduate degree which I barely knew about.
Now that I am graduated and I can clearly remember how anxious I was when I started graduate school in a fairly unknown program. I want to share my wonderful experience of being a graduate student in Iowa State University's HCI program. During my first semester, I transitioned from anxiety to enthusiasm and joy. I have had 8 years of programming experience and I had never understood software development as I do now. The courses in HCI program opened my eyes to a new world of seeing my application from the users' perspective which helped me to be much more efficient in my job.
I cannot tell you how much I enjoyed this interdisciplinary program. Having the chance to and help develop cutting-edge technologies, such as XR devices, collaborating with smart and friendly people of VRAC (Virtual Reality Application Center) and all other disciplines, and a lot more, made it such a unique experience for me.
Last but not least, I believe HCI is now much more appreciated by the industry and it actually helped me a lot to find a job. I think companies now value HCI knowledge more as they have observed the efficiency that it adds to the SDLC (Software Development Life Cycle). During the job interviews that I had, I observed how much the companies are looking for the people who understand the users.
I hope this document helps people who are contemplating about starting HCI program at Iowa State University. If you are not sure about it yet, pay yourself a visit to VRAC and I am confident that you won't regret it!
---