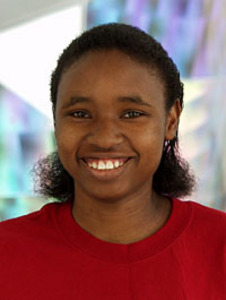 Tanasha Taylor
MS, Spring 2008
Home Dept:
Ag and Biosystems Engineering
MS Dissertation title:
A concept virtual harp with physical string vibrations using augmented reality for therapy
MS Advisor(s):
Shana Smith
Area of MS research:
This thesis presents a multimodal three-dimensional harp for interactive musical experiences for use in therapy for individuals with disabilities. Realistic 3D visual and haptic feedback was provided through immersion in a portable augmented reality-based system composed of a video see-through head mounted display (HMD) and a Sensable Phantom Omni haptic device. Users play the virtual harp by using the Phantom Omni haptic device to pluck or strum the strings of the harp. Users can also freely move the harp in the augmented reality environment to provide a more realistic experience, similar to that of playing a traditional musical instrument. The system will be used to provide interactive musical experiences and to develop motor skills among individuals with disabilities through music therapy. A virtual therapist feature was developed which can be used by a therapist without musical knowledge to observe a user during therapy exercises or by a user to engage in self-motivated therapy exercises outside the therapy room. With the virtual therapy feature, users can follow a simple pre-determined sequence of notes using color-coded strings.
Employment upon graduating:
Direct Support Associate
Mosaic
Des Moines, IA
Current activity:
Train and assist individuals with work skills and skills for daily living
What HCI classes were invaluable to my success?
All the courses were invaluable to my success; HCI 521 helped me learn about HCI, how to write a literature review, and the journal submission process. The courses I took with programming different programs helped me gain and develop skills in C++ programming. HCI 655 let me think about science in a different way and how society has formed it. The HCI courses used teamwork for some assignments and projects, which allowed me to see what other HCI students interest were and gain friends.
Favorite graduate school memory:
Presenting my demo at the three day long 2007 Emerging Technology Conference and the HCI student game nights.
HCI issues that interest me:
The use of technology among users with disabilities
A website recommend, and why:
http://www.albany.edu/~co283832/isp301/osborne.html
Human Computer Interaction and the Disabled - This site introduces readers to human computer interaction from the disabled and provides references to learn more about this issue.
<---- Back to search results