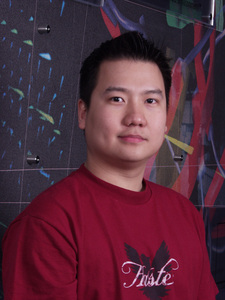 Ronald Sidharta

MS, Spring 2005
Home Dept:
Computer Science
MS Dissertation title:
Augmented Tangible Interface for Design Review
MS Advisor(s):
Carolina Cruz-Neira and Adrian Sannier
Area of MS research:
Traditional design review uses "old" 2D interfaces such as a mouse and a keyboard to manipulate 3D objects. These 2D to 3D limitation is not desirable, especially in a design review meeting. I proposed a set of 3D tangible interfaces using augmented reality to help with CAD design review.
Employment upon graduating:
Equity Derivates Trading Developer
Goldman Sachs
Tokyo, Japan
Current activity:
I am a developer in the Fixed Income division, developing application for Interest Rate Product trading.
What HCI classes were invaluable to my success?
HCI 575X, Virtual Reality Class, Open GL Class
Favorite graduate school memory:
VRAC potluck, Late night coding, Fun Co-workers / Staffs. Great bosses, etc.
HCI issues that interest me:
Currently I am interested in Finance, equities trading, so things related to that.
A website recommend, and why:
Finance.google.com
good HCI design for lots of information
<---- Back to search results