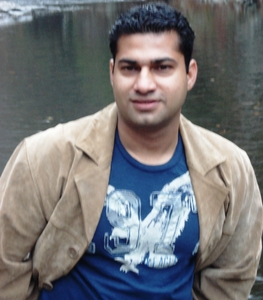 Sumit Sharma
MS, Spring 2007
Home Dept:
Ag and Biosystems Engineering
MS Dissertation title:
Developing virtual watersheds for evaluating the dynamics of land use change
MS Advisor(s):
Udoyara Tim
Area of MS research:
My research was focused on developing an improved interface in the field of environmental sciences, with the combination of computing, information, and communication technologies to significantly enhance the characterization of hydrological phenomena at various spatial and temporal scales. A user interface was developed in this study using speech recognition and Virtual Reality technologies that helped in improving resource management and decision-making related to land use management.
Employment upon graduating:
Programming Analyst (Developer Support Group)
ESRI
Los Angeles, CA
Current activity:
Designing, developing and maintaining GIS-based desktop and/or web applications for civil and environmental engineering project applications in the areas of asset management, condition assessment and water resources planning. Programming and database management in VB.NET and SQLServer. Water Distribution Modeling, Water CAD, Designing waste water treatment plant.
Favorite graduate school memory:
There are lots of memories which are my favorite one but my most favorite one was when I saw it snowing for first time as back home in my country it gets cold but it never use to snow at the place where I lived.
HCI issues that interest me:
Recent ongoing research.
<---- Back to search results