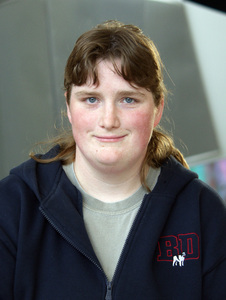 Emily Ericson
MS, Spring 2007
Home Dept:
Ag and Biosystems Engineering
MS Dissertation title:
Development of an immersive game-based virtual reality training program to teach fire safety skills to children
MS Advisor(s):
Shana Smith
Area of MS research:
Injuries from residential fires are often overlooked as a dangerous safety concern for children. While lectures and classroom learning techniques can be effective in mitigating this risk, studies have shown that kids retain information better if they are allowed to practice escape techniques. Virtual Reality (VR) has been used both to simulate situations that are too dangerous to practice in real life and as a tool to help children learn. This thesis presents the two stage development of the Fire Safety Project, a game-based VR training environment to increase children's understanding of fire safety. In the first iteration students help firefighters to identify home fire hazards and then practice escaping from a simulated fire in a virtual environment. Surveys administered show that participants felt that they had learned something during training. Many young participants also wanted to have active control over the virtual environment. In response, the second iteration is more game-based and allows children to explore the environment independently and "zap" fire hazards with the help of a tracked 6DOF wand. A user study was carried out and results indicate that students enjoyed the program; however there were no concrete learning gains from the use of the VR simulation.
Employment upon graduating:
Software Engineer
Rayethon
Boston, MA
<---- Back to search results