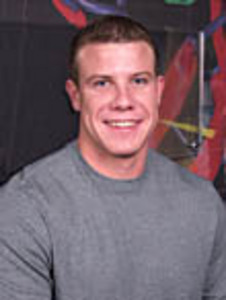 Thomas Erlemeier
MS, Fall 2006
Home Dept:
Mechanical Engineering
MS Dissertation title:
The development of a virtual reality based CAD system for design review
MS Advisor(s):
James Oliver
Area of MS research:
Virtual reality is currently utilized to view and evaluate product designs but is not used to alter designs. The design is typically completed on desktop workstations with CAD software and then evaluated within a virtual environment. Integrating VR and CAD could potentially improve designs by allowing several engineers and managers to critique and modify designs together, enabling concurrent engineering. This thesis discusses the development of a virtual reality based CAD system for altering designs during a design review. A list of criteria was first created to assess the system's effectiveness in a design review which formed the basis for the development. The system integrates Pro/Engineer using the J-Link interface and VR Juggler. A wireless networked tablet PC along with a wand and tracker were chosen to operate the system. The developed system proved to meet the majority of the criteria and shows potential to meet all of the criteria.
Employment upon graduating:
Engineer
John Deere
Waterloo, IA
<---- Back to search results