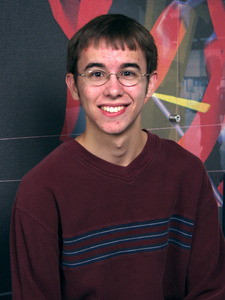 Brandon Newendorp



MS, Summer 2009
Home Dept:
Mechanical Engineering
MS Dissertation title:
Real0time scenegraph creation and manipulation in an immersive environment using an iPhone
MS Advisor(s):
Eliot Winer
Area of MS research:
Currently, most 3D scene creation is done on a desktop computer with a 2D interface, then the scene is imported into a VR environment. This is a slow and time consuming process. Why not create 3D scenes in a VR environment, where it will actually be used? Additionally, how can we use an iPhone to control this system?
Employment upon graduating:
iOS Software Engineer
Apple
Cupertino, CA
What HCI classes were invaluable to my success?
Several of my software/graphics oriented classes were some of the most useful to me. In particular, the OpenGL class and Chiu-Shui Chan's 3ds Max classes stand out. Although not related to my research as much, I did enjoy Alex's computational perception class too.
Favorite graduate school memory:
All the late nights working on some crazy app in C6.
HCI issues that interest me:
The continued growth of mobile computing and the new ways people can take advantage of them in our daily lives.
<---- Back to search results