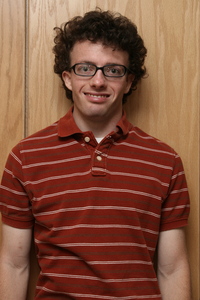 Levi Swartzentruber
MS, Summer 2009
Home Dept:
Mechanical Engineering
MS Dissertation title:
Improving Path Planning of Unmanned Aerial Vehicles in an Immersive Environment using Meta-Paths and Terrain Information
MS Advisor(s):
Eliot Winer
Area of MS research:
My thesis expands previous work on path planning. It covers improvements to the cost function used in finding optimal paths. It also presents "meta-paths" and other tools for enhancing the operator's ability to re-task a UAV according to mission objectives and personal preferences.
Employment upon graduating:
Staff in Training
The Navigators
Metamora, IL
Current activity:
I will spend several months getting training and raising financial support before going to the Australian National University. There I will be a full-time missionary working with college students, exposing them to who Jesus is from the Bible and helping them know and walk with him if they would desire to do so.
What HCI classes were invaluable to my success?
I think HCI 521 was very important in exposing me to many of the topics included in HCI and helping me understand why designing for the user is so important. MIS 655 was also important in exposing me to more of the ethical issues of the field and taking an in-depth look at why science is done the way it is.
Favorite graduate school memory:
One of my favorite memories was one night in the lab when I was able to see the Virtual Universe in the C6. Brandon and Christian were testing the app and let me drive for a little while.
HCI issues that interest me:
There are two issues I find to be important. The first is the design of usable interfaces. Especially after 521, I see that there is still a great deal of work needed to make software more intuitive so it is easier to pick up quickly. Technology transfer is also important because I do not want to see all the work we do in a facility like VRAC just go to waste because there are no ways to get it to the public.
I like my iGoogle homepage quite a bit. I enjoy that I am able to customize it with exactly what I want. I am a particular fan of the weather and the Ansel Adams picture of the day. I also enjoy shutterfly.com for the wide range of things I can do with my pictures. I think it is well designed to allow users to do what they want efficiently and to create a good user experience.
<---- Back to search results