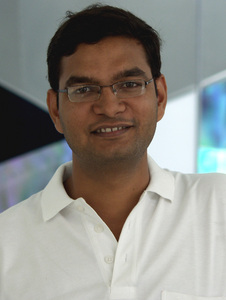 Utkarsh Seth



MS, Fall 2009
Home Dept:
Mechanical Engineering
MS Dissertation title:
A virtual reality interface for the design of compliant mechanisms
MS Advisor(s):
Judy Vance
Area of MS research:
A design algorithm and an immersive interface for the synthesis of compliant mechanism was proposed. A user-centered design methodology was applied which enabled a novice mechanism designer to design a compliant mechanism.
Employment upon graduating:
User Experience Researcher
Microsoft
Redmond, WA
Current activity:
I work in User Experience Design & Research department for Windows, Windows Live and IE
What HCI classes were invaluable to my success?
HCI 521, ArtGr 672
Favorite graduate school memory:
Every second spent in VRAC will always be remembered.
HCI issues that interest me:
Measuring perceived performance on mobile web
<---- Back to search results