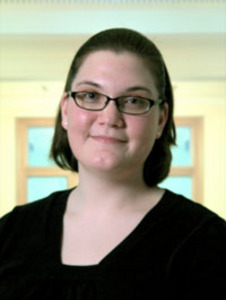 Catherine Peloquin

MS, Fall 2009
Home Dept:
Mechanical Engineering
MS Dissertation title:
Determination of critical factors for fast and accurate 2D medical image deformation
MS Advisor(s):
Eliot Winer
Area of MS research:
Tissue deformation algorithms for use on medical images face a trade-off between computation time and solution accuracy. The effect of parameter selection on 2D medical image deformations created using a variation of the ChainMail algorithm was explored.
Employment upon graduating:
Experience Manager
Intel
Portland, OR
Current activity:
I am a human factors engineer for Intel's Information Technology organization. My job consists of understanding who Intel's employees are and what they do every day then making the technology they use work for them. My day to day work includes project planning, task analysis, ethnographic research, participatory design, prototyping, and usability testing.
What HCI classes were invaluable to my success?
HCI 521 taught me the basics of usability, and HCI 575 opened my eyes to technology's potential.
Favorite graduate school memory:
CHI '09: Several HCI students including myself went to go to present at the student design competition. It was the first HCI conference I had gone to, and it completely changed my view of the field. The days were long, but the conversations we had over dinners where we discussed what we had seen and what it meant to us were amazing.
HCI issues that interest me:
Design for existing hardware, learning software evaluation, data visualization
A website recommend, and why:
http://www.girlgeniusonline.com/
Girl genius is a steam punk adventure comic strip starring, you guessed it, a female technological wiz. There are a lot of essential and informative websites out there that I have to or choose to read frequently, but this comic strip helps me recapture my feeling of excitement about science and technology when I get too stuck in the daily grind.
<---- Back to search results