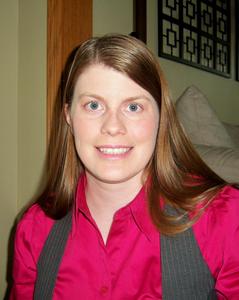 Krista Thompson
Online MS, Spring 2010
Home Dept:
Psychology
MS Dissertation title:
User-centered Design Applied to the Development of an Application for the General Mills' WIC Team
MS Advisor(s):
Stephen Gilbert
Area of MS research:
WIC stands for the Special Supplemental Nutrition Program for Women, Infants, and Children voucher program. The program is designed to provide for supplemental foods, health care referrals, and nutrition education for low-income pregnant, breastfeeding, and non-breastfeeding postpartum women, and to infants and children up to age five who are found to be at nutritional risk. The WIC program is supported nationally with each state and U.S. territory being able to set guidelines for product eligibility. Families in this program receive vouchers for a set number of food products. One of the most common items on WIC vouchers is cereal including several of the Big G cereals manufactured by General Mills. The Big G WIC Business team at General Mills is in need of a new system for WIC volume estimation reporting. They would like to understand the share of volume consumed by the WIC program and understand the effects of changes to the products or eligibility requirements. The existing system was created in 1999 and is no longer functioning due to advancements in the supporting systems and technical obsolescence issues. This project was focused on understanding the user requirements and designing a new application based on user interaction'feedback and basic design principles. The information captured and created by this application will provide the General Mills' WIC team with valuable reports that will be used to help the teams supporting Big G (i.e. Marketing, Sales, etc.) proactively respond to shifts in the market caused by WIC eligibility and determine to whether product development would be justified if it became eligible for the WIC program.
Employment upon graduating:
IT Project Lead
General Mills
Plymouth, MN
<---- Back to search results