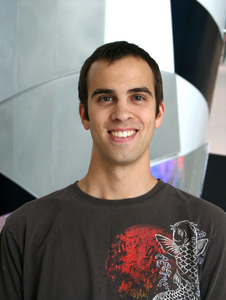 Michael Van Waardhuizen


MS, Summer 2010
Home Dept:
Mechanical Engineering
MS Dissertation title:
The AugmenTable: markerless hand manipulation of virtual objects in a tabletop augmented reality environment
MS Advisor(s):
James Oliver
Area of MS research:
The AugmenTable is an augmented reality workstation intended for conceptual design and prototyping. It combines a thin form factor display, inexpensive web cameras, and a PC into a unique apparatus that has advantages similar to a head mounted display. The system operates on well-established computer vision algorithms to detect unmarked fingertips within an augmented reality scene. An application was developed to allow a user to manipulate virtual objects within the scene. This manipulation is possible through the use of three-dimensional widgets and controls that allow the user to control objects with natural fingertip motion. This thesis also documents similar previous work, the methods used to create the AugmenTable, and a number of avenues for advancing the system and the interactions it can offer users.
Employment upon graduating:
UX Researcher
Microsoft
Redmond, WA
Current activity:
usability and satisfaction research for MS Office
What HCI classes were invaluable to my success?
HCI 521 and HCI 575
Favorite graduate school memory:
made a lot of good friends
HCI issues that interest me:
usability, interface trends
<---- Back to search results