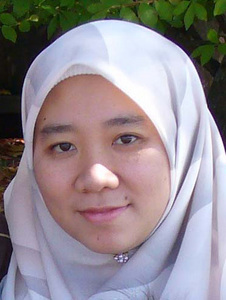 Farrah Yusop


PhD, Summer 2010
Home Dept:
Curriculum and Instruction
PhD Dissertation title:
The Civic-Minded Instructional Designers (CMID) framework: Educating instructional designers with community-based service-learning approaches
PhD Advisor:
Ana-Paula Correia
Area of PhD research:
This dissertation critiques current approaches to educate instructional designers and proposes a Civic-Minded Instructional Designers (CMID) framework. Next, using ethnography, this dissertation seeks to understand how students enact their civic-minded agencies, as well as the opportunities and challenges in applying service-learning pedagogy to educate civic-minded instructional designers.
Employment upon graduating:

Lecturer/Assistant Professor
University of Malaya, Malaysia
Current activity:
Teaching both undergraduates and graduates; research and students' supervision
What HCI classes were invaluable to my success?
HCI 521
Favorite graduate school memory:
I treasured the opportunities to present at various prestigious international conferences and certainly, the experience of managing a student-led instructional design consulting firm, Learning Design Solutions.
HCI issues that interest me:
I am always interested in finding ways to improve the human aspects of HCI. My dissertation is one of the examples of this, in which I look into better ways to educate designers who are technically competent and being civic-minded.
<---- Back to search results