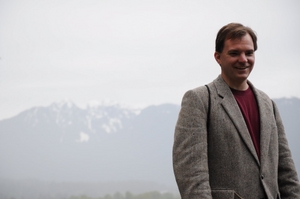 Michael Oren




PhD, Summer 2011
Home Dept:
Psychology
PhD Dissertation title:
Human-Computer Interaction and Sociological Insight
PhD Advisor:
Stephen Gilbert
Area of PhD research:
The juxtaposition of classic sociological theory and the, relatively, young discipline of human-computer interaction (HCI) serves as a powerful mechanism for both exploring the theoretical impacts of technology on human interactions as well as the application of technological systems to moderate interactions. It is the intent of this dissertation to contribute to the knowledge of both HCI and sociology through a brief discussion of the state of sociological theory and its shortcomings, the design and evaluation of a system to promote social affinity in dyadic work, a method for empirically measuring affinity free from the social desirability bias of surveys, and a proposal for a new direction for HCI to include classic sociological theories. Ultimately, this dissertation serves as an introduction to a series of future research projects by laying the theoretical and methodological foundations for exploring indirect technological mediation of social interactions.
Employment upon graduating:
Senior UI Analyst
American Imaging Management
Chicago, IL
Current activity:
' Define user experience requirements by gathering, understanding, and researching business concept, strategy and objectives ' Analyze and envision overall design, architecture and user experience by studying site concept, strategy, target audience, and users consumption of content including data categorization and labeling, competitors experiences, and trends in the marketplace ' Develop information structure, features, functionality, workflow, navigation, and user-interface design thru a series of use cases, site maps, flow diagrams, and wireframes ' Work with web designers, business analysts/ requirements gathers, and developers to ensure the specifications are consistent with the user Interface requirements and usability best practices ' Validate information architecture delivery by developing and completing usability test plans, evaluating traffic patterns, and studying user feedback
What HCI classes were invaluable to my success?
All of the HCI courses I took were useful in one way or another, although some (such as MIS 655) took me longer to fully appreciate their usefulness than others.
Favorite graduate school memory:
Defending my dissertation was a great memory-I had a nice sized audience, and I enjoyed the process.
HCI issues that interest me:
My main interest is where HCI will be 15-20 years from now as a discipline and what I can do to make a substantial contribution to that future.
A website recommend, and why:
http://casci.umd.edu/Publication_Venues
It lists several venues that publish HCI-related research and is a great resource for budding scholars or those interested in tracking down HCI papers to read.
<---- Back to search results