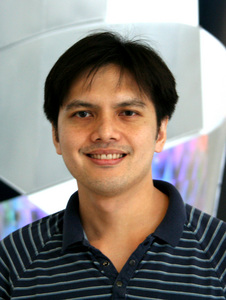 Wutthigrai Boonsuk
MS, Summer 2011
Home Dept:
Psychology
MS Dissertation title:
Evaluation of desktop interface displays for 360-degree video.
MS Advisor(s):
Stephen Gilbert
Area of MS research:
My research investigated the necessary display characteristics for a system such as mobile surveillance that allow observers to correctly interpret 360-degree video images displayed on a desktop screen. This research will assist designers of 360-degree video systems to design optimal user interface for remote navigation and observation in unfamiliar environments.
Employment upon graduating:

Instructor
Northern Illinois University
Sycamore, IL
What HCI classes were invaluable to my success?
HCI 521 - The Cognitive Psychology of HCI.
Favorite graduate school memory:
I had an opportunity to work and contribute on several challenging projects.
HCI issues that interest me:
Combining HCI and GIS technology.
A website recommend, and why:
www.youtube.com.
You may be surprised by what you may find.
<---- Back to search results