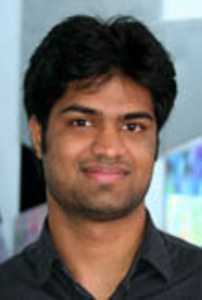 Shrenik Devasani


MS, Fall 2011
Home Dept:
Computer Science
MS Dissertation title:
Intelligent Tutoring System Authoring Tools for Non-Programmers
MS Advisor(s):
Les Miller
Area of MS research:
I made contributions to the field of intelligent tutoring in the form of extensions to an existing ITS authoring tool, research studies on authoring tool paradigms and the design of authoring tools for non-programmers in two complex domains - natural language processing and 3D game environments.
Employment upon graduating:
Software Developer and Research Assistant
Palo Alto Research Center (PARC)
Mountain View, CA
What HCI classes were invaluable to my success?
HCI 575, HCI 521
Favorite graduate school memory:
My favorite memory has to be the 1 week I spent attending AIED 2011 in Auckland with my advisor, Stephen Gilbert.
HCI issues that interest me:
Learning sciences, intelligent tutoring systems
<---- Back to search results