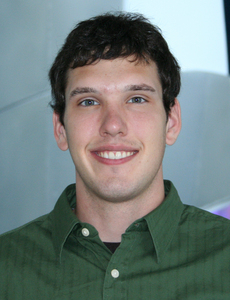 Brice Pollock

MS, Spring 2012
Home Dept:
Mechanical Engineering
MS Dissertation title:
Creating a flexible LVC architecture for mixed reality training of the dismounted warfighter
MS Advisor(s):
Eliot Winer
Area of MS research:
Developing the architecture for fair interaction among Live, Virtual and Constructive entities within a rapidly reconfigurable mixed reality training system termed the Veldt at Iowa State University.
Employment upon graduating:
iOS Software Engineer
Apple
Current activity:
I will help develop the tools third party developers and internal Apple employees use to automate user interface testing of applications on the iOS platform.
What HCI classes were invaluable to my success?
Cognitive Psychology was a fantastic class to really understand what I consider HCI and how to design for users. Computational Perception was similarly an amazing class where I learned a ton technically and about how humans process reality
Favorite graduate school memory:
What I really enjoyed in grad school was working with cutting edge technology, pushing how people interact using computational power, and learning how to create applications which offer a naturally usable experience.
HCI issues that interest me:
I am interested in how to create applications that help people and feel as if an extension of a person. I am also really interested in research pertaining to the expansion and extension of how people interact with computers through technology.
A website recommend, and why:
Wired.com
It has news on just about every interesting science or tech related topic throughout a month. It keeps me in tune with what is going on in industry and that knowledge helps make me a true professional in the software industry
<---- Back to search results