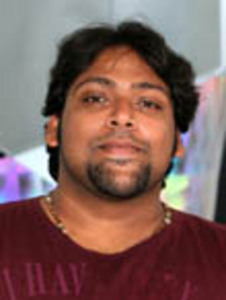 Niyanth Kudumula

Online MS, Spring 2012
Home Dept:
ABE A
MS Advisor(s):
Nir Keren
Employment upon graduating:
User Experience Designer
SAP Labs
Mountain View, CA
Current activity:
I design Mobile Applications that enable enterprises to run their business on mobile devices. Designing Enterprise applications for mobile devices is a challenge and I am enjoying it.
What HCI classes were invaluable to my success?
HCI 575 Computational Perception, HCI 521 Cognitive Psychology of HCI, HCI 589 Design and Ethics, HCI 557 Computer Graphics and Geometric Modeling, HCI 596 Emerging Practices in HCI
Favorite graduate school memory:
My experience working at VRAC, especially when using the C6 facility for my experiments. It all started when I first created a 3D virtual environment and experienced it in the C6.
HCI issues that interest me:
Designing applications that are scalable across platforms and form factors while ensuring the best user experience with lower TCO, Emerging practices in HCI including Virtual and Augmented reality implementations in the industry.
A website recommend, and why:
www.youtube.com
One can find information about anything in the form of videos rather than reading web pages. Other than the entertainment part, I use youtube extensively for watching classroom sessions from various universities across the globe on various topics.
<---- Back to search results