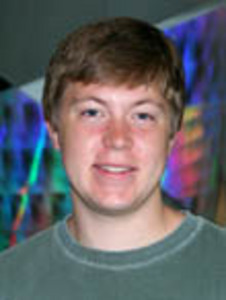 Brian Russell


Online MS, Spring 2012
Home Dept:
Electrical and Computer Engineering
MS Dissertation title:
Bookshelf Browser: A Library Exploration Tool
MS Advisor(s):
Stephen Gilbert
Area of MS research:
As the world's library collections are ported into the digital realm, people are encountering library physical shelves with decreased frequency. While the act of browsing was once an instrumental part of knowledge discovery, this action has not found a strong analog in the digital world. Bookshelf Browser seeks to create such an analog in the form of a web application. It creates a virtual representation of a library shelf and populates it with virtual books covers. These covers are generated using the dimensions their physical book counterparts. In this way, a user can have the experience of browsing through a library shelf without having to access the physical library. In addition to generating virtual shelves, Bookshelf Browser assists a user in visualizing certain reference and availability details. Details that can be visualized include: date of publication, checkout availability, and each book's associated Library of Congress keywords. The reference details are visualized by associating this information with one of several color schemes. Each color scheme is then used to color the generated book covers. From this information, users can quickly find commonalities and differences within a collection of books.
Employment upon graduating:
Program Manager
Microsoft
Bellevue, WA
Current activity:
I will be working in Microsoft's online services division. At Microsoft, I will be part of a development team that will be tasked with implementing new product features.
What HCI classes were invaluable to my success?
Cognitive Psychology of HCI - HCI 521
Developmental Robotics - HCI 585X
Favorite graduate school memory:
Each year, I enjoyed attending Iowa State's ETC conference. At the ETC poster presentation, I always got a chance to see the current projects in development at VRAC. While I saw many of my fellow HCI students on a daily basis, I often didn't know the specifics of their work until reading their posters.
HCI issues that interest me:
User centered design.
A website recommend, and why:
useit.com usability.gov
Useit.com is a great website to obtain practical HCI instructions. Usability.gov provides usability testing templates and instructions for conducting a variety of usability tests.
<---- Back to search results