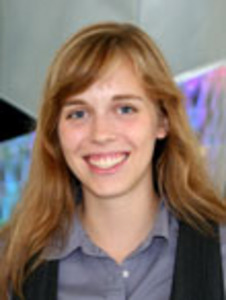 Hannah Deering



MS, Spring 2013
Home Dept:
Art & Design
MS Dissertation title:
Opportunity for success: Website evaluation and scanning by students with Autism Spectrum Disorders
MS Advisor(s):
Debra Satterfield
Area of MS research:
I conducted a pilot study compared students' cognitive traits associated with ASD, as reported in a survey, to their performance in a lab study that asked them to scan and evaluate web content. By observing eye-tracking data and differences in responses between participants, this study aimed to quantify differences of website evaluation between individuals with or without autism. The findings suggested that people with High Functioning Autism or Asperger's have equal opportunity to successfully evaluate websites as their neurotypical peers.
Employment upon graduating:
User Experience Designer
Priority5
Ames, IA
What HCI classes were invaluable to my success?
ArtGr 672A - Usability with Sung Kang: This class really helped me learn how to conduct a usability study and analyze the results, plus it gave me a deep portfolio piece that I felt proud to talk about in interviews.
PSYCH 501 - Foundations of Behavioral Research: This class gave me enough statistical background to really understand and support my findings.
HCI 573X - User Interface Implementation for Web Application: In addition to learning PHP for web dev, I was able to use it to help me parse through huge data files. This class also gave me an excellent portfolio piece.
HCI issues that interest me:
User Experience is really starting to come into its own in industry. More companies are recognizing its importance, which is creating huge demand. I'm interested in the ways UX incorporates into the business processes, how to design interfaces that compel, excite, and inspire users, and how to validate design decisions based on evidence, without losing the beauty and cohesiveness of a designer's vision.
A website recommend, and why:
http://uxmag.com/ & http://www.smashingmagazine.com/ http://proquest.safaribooksonline.com.proxy.lib.iastate.edu/ http://www.it.iastate.edu/services/training http://www.phdcomics.com/ http://asana.com/ http://3monththesis.com/whats-the-best-phd-reference-manager/
Uxmag and Smashing Magazine for articles about current issues in the web and UX world. Proquest because though you will have to VPN in if you're not on campus, this is a hidden treasure trove of hundreds of great, up to date design and development books (if that link doesn't work just search for a book at lib.iastate.edu and look for Online Access). The IT website because student fees give you access to tons of tutorials over at Lynda.com. Want to learn something? Teach yourself! PhD Comics for those times that you think you're the only one in grad school feeling a little bit crazy. Asana for managing all the things you have to do. 3 Month Thesis for managing all of the papers you have to cite (I used Papers).
<---- Back to search results