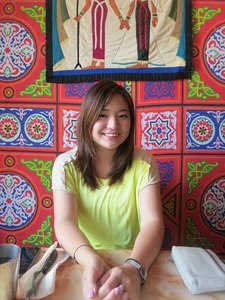 Ai-chi Lu


Online MS, Spring 2013
Home Dept:
Psychology
MS Dissertation title:
Crave - Dish Recommendation Engine
MS Advisor(s):
Stephen Gilbert
Area of MS research:
Crave is a dish recommendation engine website that serves to help fulfill any food craving the users might have. Might it be a particular taste, ingredient, or style, Crave aims to take the confusion and work out of food search, building on a standardized and digitalized restaurant menu for the area. It leverage the access to data for individual menu items to allow reviews down to the dish level. Cross referencing dishes across multiple restaurants to establish comparison for any particular dish a user might look for. With the review data, search history and peer recommendation we will have the user data that can allow us to recommend dishes that have similar qualities.
Employment upon graduating:
User Experience Engineer
IBM
San Jose, CA
Current activity:
Research, design, and test user interface for IBM information management systems related to z/OS, Data Studio, and Big Data.
What HCI classes were invaluable to my success?
Human Factors, Cognitive Psychology, Design for HCI
Favorite graduate school memory:
Sitting in a HCI lecture in second life, what a interesting way to conduct a remote distance learning class!
<---- Back to search results