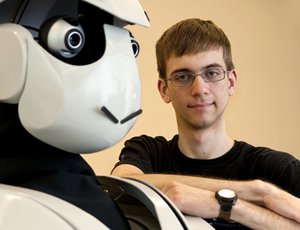 Connor Schenck


MS, Summer 2013
Home Dept:
Computer Science
MS Dissertation title:
Intelligence tests for robots: Solve perceptual reasoning tasks with a humanoid robot
MS Advisor(s):
Alexander Stoytchev
Area of MS research:
The hypothesis of my thesis is that by applying intelligence tests to robots, we can better understand how to make them more intelligent.
Employment upon graduating:

PhD student
University of Washington
Seattle, WA
Current activity:
Robotics research as a PhD student
What HCI classes were invaluable to my success?
HCI 575, 585, 521
Favorite graduate school memory:
Getting my first two first-author papers accepted and flying to Japan and Bulgaria to present them.
HCI issues that interest me:
Developmental robotics and user interface design
A website recommend, and why:
Arstechnica.com
Coming from a tech person perspective, it's a good website for staying up to date on what's happening in the tech world.
<---- Back to search results