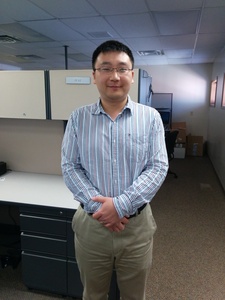 Ji Li

PhD, Spring 2014
MS Dissertation title:
3D machine vision systems for robotic weeding and plant phenotyping
Area of MS research:
The first project is the 3D machine vision system to recognize the crop and weed plant for robotic weeding application. The second project developed a position and attitude estimation system for camera, and applied it to reconstruct the 3D model of crop plant. Based on 3D reconstruction of crop plant, the physical parameters of plant were estimated.
Employment upon graduating:
Project Engineer
AGCO Corporation
Hesston, Kansas
Current activity:
Software development for precision agriculture application
What HCI classes were invaluable to my success?
HCI 575, HCI 521, and HCI 591
Favorite graduate school memory:
To get in touch with different intersting areas, and learn lots of amazing ideas in the HCI Program.
HCI issues that interest me:
3D imaging and 3D reconstruction of objects
<---- Back to search results