Staff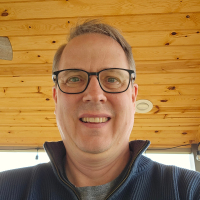 Glen Galvin
Title: Systems Analyst III [VRAC]
Dept: Virtual Reality Applications Center
Degree: BS
Major: Computer Science
Email:
galvin@iastate.edu
Tel: +1 515 294 6604
URL:
http://projects.vrac.iastate.edu/galvin/
Affiliation: VRAC & HCI
Background:

Glen has a BS in Computer Science from Iowa State University. Upon graduation he worked for small start-up company supporting medical practice management software. The company went public (NASDAQ:MMGR), and was later purchased by Healtheon/WebMD for roughly $4.8 billion. In 1999 Glen returned to Iowa State University to work for the Iowa Center for Emerging Manufacturing Technologies (ICEMT) which is known today as the Virtual Reality Applications Center (VRAC). During his tenure at VRAC he has overseen the design, construction and remodels of the C6 Virtual Reality CAVE(tm) and image clusters. He has also overseen the creation of the MIRAGE, METaL, and UX Labs, and the 3D Auditorium in Howe Hall. He has a general interest in all technology with an emphasis on Linux, and has RHSA and RHCE certifications from Redhat. In addition to VRAC Glen has served two terms on the Professional and Scientific Council, which is part of the shared governance of Iowa State. He serves on the board for Ames Youth Baseball and is the Director of Registration for Ames Little League. He's previously helped coach flag football and baseball, is active in his church, and enjoys chasing his kids around at all their activities.
Office:

2274 Howe 1620
537 Bissell Rd.
Ames, IA 50011-1096