Mixed Reality Adaptive Generalizable Environment

The Mirage (Mixed Reality Adaptive Generalizable Environment) is a synthetic environment training arena currently under development at Iowa State University. The university along with numerous government and industry collaborators are working together to create a new research lab that will focus on enhancing the effectiveness of LVC (Live, Virtual, and Constructive) training for the Army through the use of high-end virtual and augmented reality. Once completed, the Mirage will be a modular training environment consisting of immersive graphic displays, human and weapon tracking systems, and real-world sets and props that can be quickly moved and reconfigured to create different training scenarios. The goal is to create a realistic and immersive environment that will enable soldiers to engage both live and virtual combatants within the arena to give them the skills to be better warfighters.
In addition to developing the training arena, this project also has several other deliverables and research goals which will be completed concurrently:
Exploring research topics to direct how the Mirage technologies can be applied to other Army programs in the future
Assessing the use of LVC training to determine its effectiveness in a military context and how it can be improved
Assessing the use of emerging interface technologies within the context of LVC training
Developing the Mobile Veldt which will be a scaled-down version of the full training arena to be used for demonstration purposes at conferences and meetings
The Mirage project includes a mix of fixed and reconfigurable components, including: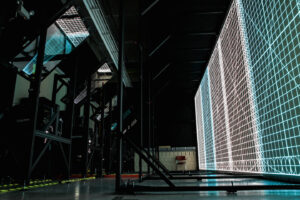 33′ x 11′ fixed screen display with six active-stereo WUXGA projectors.
50″ active-stereo video cubes that can be tiled and reconfigured as the simulation requires.
Motion Analysis optical tracking system providing sub-millimeter tracking accuracy throughout the entire room.
Reconfigurable walls and props for creating multiple simulation scenarios.
Dedicated PC Cluster utilizing the latest nVidia Quadro graphics card technology.
Spatial surround sound audio system.
The MIRAGE also has a portable component known as the "Mobile Veldt". This is a portable unit for demonstrating the functionality of the MIRAGE offsite.