SPIRE-EIT 2008

Summer Program for Interdisciplinary Research and Education
Emerging Interface Technologies
SPIRE-EIT is a 10-week research experiences for undergraduates program that combines classroom training with hands-on research projects. Come to ISU's Virtual Reality Applications Center and create new technological solutions to challenges in human computer interaction. Interns accepted into this program receive on-campus housing and a meal plan, as well as a $4000 stipend.
Funded by NSF Grant IIS-0552522.
---
SPIRE-EIT REU 2008 Overview

---
Interdisciplinary Research Teams
Magic Table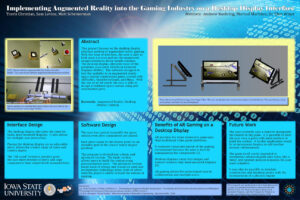 MagicTable_Paper.pdf – Implementing Augmented Reality into the Gaming Industry on a Desktop Display Interface.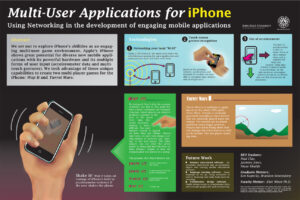 iPhone Dev
IPhoneDev_Paper.pdf – Developing Multi-User Applications for iPhone
Robot Learning
RobotLearning_Paper.pdf – Evaluating the Effects of Haptic and Visual Feedback on the Teleoperation of Remote Robots
Multitouch
MultitouchTable_Description.pdf
MultiTouchTable_Paper.pdf –  Creating a Collaborative Multi-Touch Computer Aided Design Program
Biology in VR
BiologyInVR_Video-HowToTextMessage
BiologyInVR_Paper.pdf – Enhancing Game Realism via Particle Models, Character Skeletons, and Contextualized User Interface
---
People – Interns and Staff.  (Directory.pdf)

Photos and Videos

---