HCI Handbook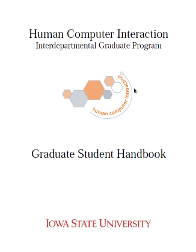 The HCI Handbook is a must read for all HCI students. It has information about the academic requirements, program milestones, campus resources, financial matters, administrative matters, paperwork and forms, and contact information.
[ Download HCI Graduate Handbook (.PDF) ]
The HCI Handbook is currently being revised by the HCI Supervisory Committee. Contact the HCI Program Coordinator for more information by email at hci@iastate.edu or phone at 515-294-2089.
---
HCI Intranet Site
The HCI Intranet Site contains access to the HCI Job Board and other student resources. You must first be logged in with your ISU NetID and password.
---
Center for Communication Excellence
The Center for Communication Excellence offers free, individualized writing and speaking consultations on any form of academic and professional communication (e.g., course papers, conference abstracts, presentations, proposals, research manuscripts, thesis/creative component/dissertation, job application materials). Schedule a consultation at http://cce.grad-college.iastate.edu.
For more information about other types of communication support, visit 1137 Pearson Hall or call (515) 294-0175.
---
Graduate College Forms
Frequently referenced Graduate College Forms are available on the Graduate College website.
---