Public Tours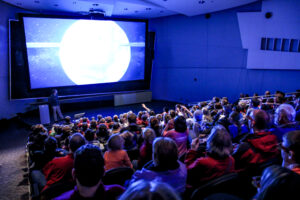 VRAC Experience – Interested in learning more about the work that goes on inside VRAC? The VRAC Experience public tour offers participants a chance to learn about the unique research facilities at VRAC and HCI and how we use them as research tools. The student lead presentation also explains how 3D virtual reality (VR) works and how graphics technology has evolved over the past decade. Several 3D enabled demonstrations will show how VR is being used to conduct research.
3D enabled applications shown typically include crowd favorites such as The Virtual Universe or exploring the USS Ronald Reagan aircraft carrier. Other applications shown vary and may include applications focusing on medical exploration, industrial design, or military training.
These tours are free and open to the public, but we ask that you RSVP since seating is limited.
Upcoming "VRAC Experience" demonstrations.
Public Auditorium tours are offered approximately once per semester.
October 15, 2019 11:00am – noon           RSVP
* Tour times and dates are subject to change.