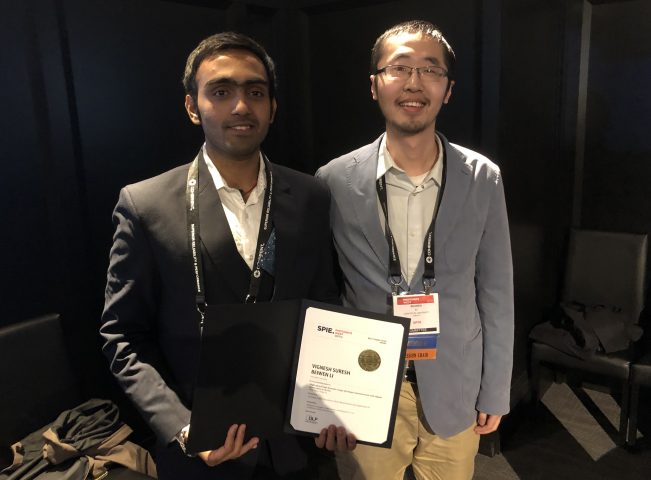 A mechanical engineering graduate student was recognized at one of the largest conferences for optics and photonics for his research in the field.
Vignesh Suresh, a Ph.D. student in mechanical engineering, won the "Best Student Paper Award" in the OPTO (Optoelectronics, Photonic Materials and Devices) category at the SPIE Photonics West 2019 Conference in San Francisco earlier this month. The paper is entitled "High-speed high dynamic range 3D shape measurement with digital micro-mirror device".
"In the optics community, one of the most challenging issue is to perform dimensional metrology for objects with highly reflective surfaces such as metals. It becomes even more complicated when the object is moving at high speeds. This paper proposed an innovative solution to overcome the two issues simultaneously," said Vignesh. "I was so happy on receiving this award. I am glad that I got recognition for this work in one of the largest conferences organized by the optics community."
Vignesh completed his M.S. in mechanical engineering at Iowa State last month and is now working on his Ph.D. He works in ME Assistant Professor Beiwen Li's Analytical 3D Optical Sensing Laboratory (3DAOS), which focuses on superfast (kHz) 3D imaging, multi-scale 3D optical metrology and machine vision.
"This research has enabled the measurements for highly reflective surfaces at kilohertz speeds, which is a big breakthrough in optical metrology," Li said. "This novel technology developed in research can also benefit high-speed mechanics testing for metal materials."
Vignesh tentatively plans to complete his Ph.D. in Fall 2021 and hopes to work in the field of machine vision after graduation.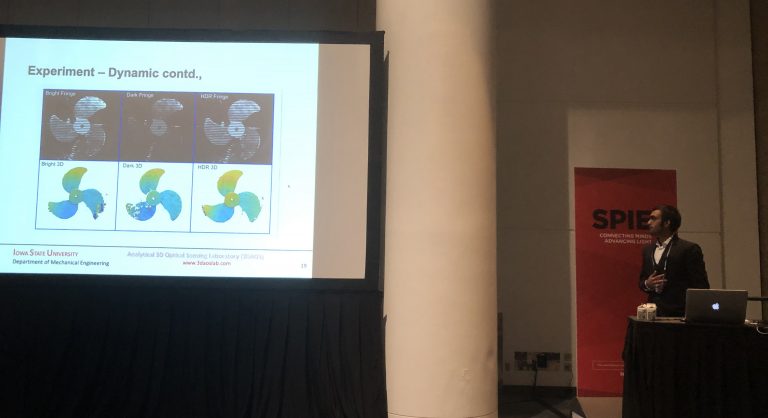 February 11, 2019 • Nick Fetty for College of Engineering News
Link to Original article