Research Experience for Undergraduates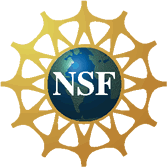 Sponsored by NSF Grant 1757900
Due to the complexities surrounding group activities while preventing the spread of COVID-19, the 2021 SPIRE-EIT REU Program has been postponed, and will be rescheduled for summer 2022. Watch this page for the updated dates and schedule to be released soon.
REU 2022 Program Website – http://reu.vrac.iastate.edu/
Program Dates: May 26 – August 1, 2020

Application Deadline: February 7, 2020


After completion of the online application please send the following items to the program at spire-eit@iastate.edu

Resume/CV
Copy of transcripts, official when possible will accept unofficial for initial review
Letters of recommendation should be sent directly from your two (2) references.

Notifications of acceptance begins February 10, 2020

Declined applicants notified by April 30, 2020

Eligibility:

Applicants must be a U.S. citizen or permanent resident of the United States.
Be and remain an undergraduate student in good standing.
Plan to complete an undergraduate degree program on or after December 2020.

Students selected to participate in the program will receive housing, a meal plan and a stipend of $5000 for the summer. The program will also contribute towards their travel.
---
Emerging Interface Technologies

The study of the relationship between humans and increasingly powerful, portable, interconnected and ubiquitous computers has become one of the most rapidly growing and significant fields of technical investigation. Interdisciplinary in the extreme, this emerging field will have an impact on nearly every area of human endeavor. There exists a need to specifically train students in this burgeoning area, and we hold a strong commitment to train students to be the best and the brightest. We feel that involving students in cutting-edge research is the best way to prepare future engineers, scientists, and artists to work at the ever more present interface between humans and computers.
---
Summer Program for Interdisciplinary Research and Education
The program is a ten-week undergraduate internship where students work collaboratively in interdisciplinary teams, receive core training, and gain hands-on research experience with emerging interface technologies. Interns accepted into this program receive on-campus housing and a meal plan, as well as a stipend.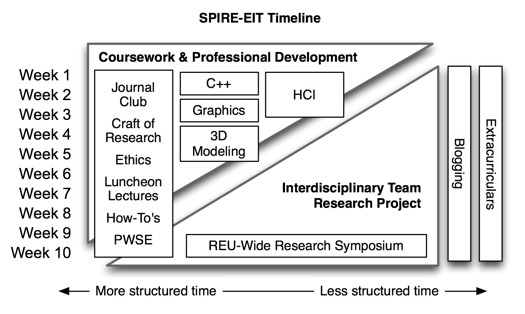 ---
Learn how to run a successful REU program for your institution! The following site was developed from the 2017 NSF CISE REU New PI's meeting and serves as a guide to orient and direct new REU sites.
https://www.vrac.iastate.edu/cise-reu-pi-resources/cise-reu-workshop/
---